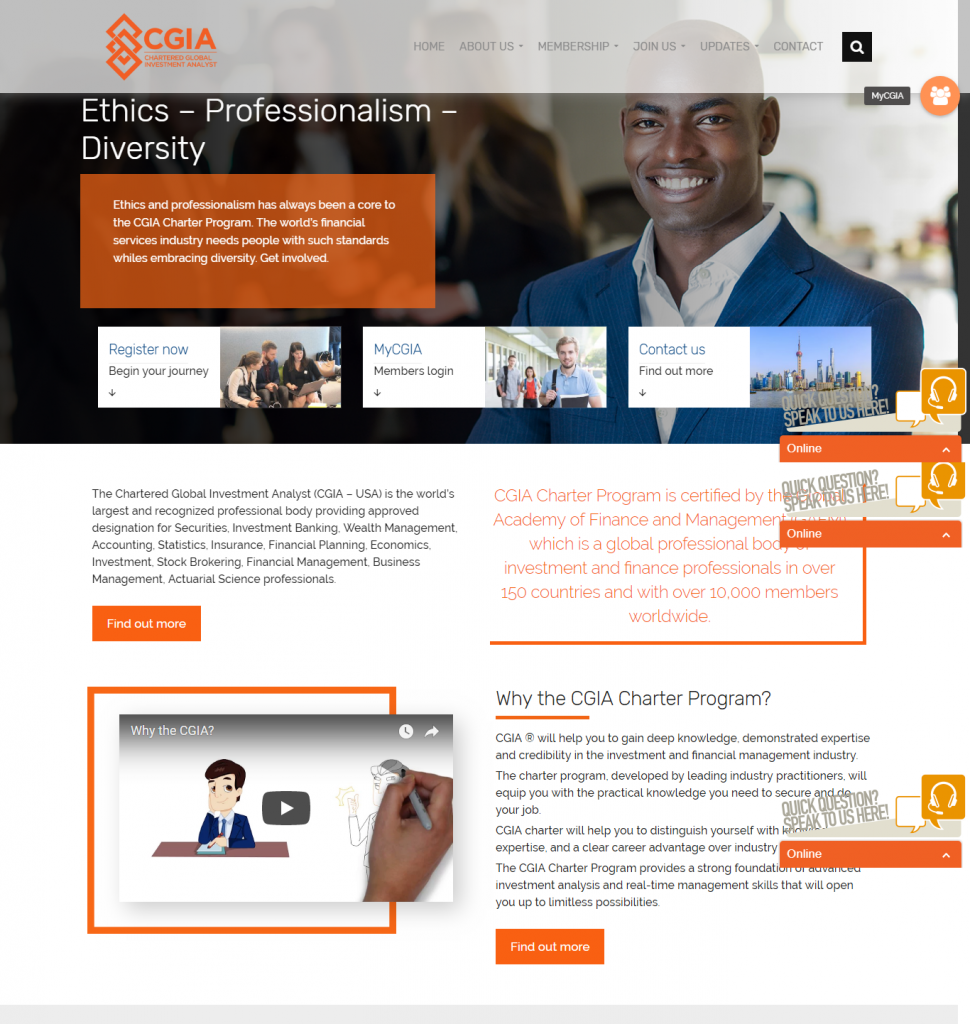 CGIA Institute
Ahenfie Estate
Wolo Limited
Klaspad Ghana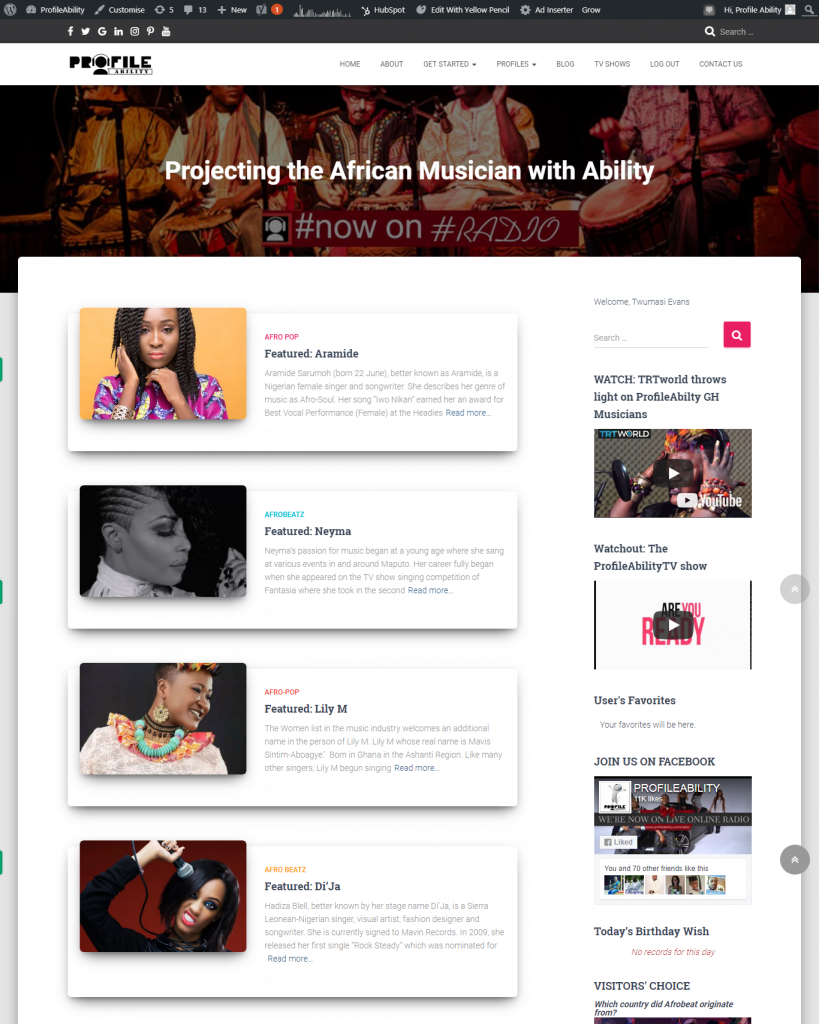 ProfileAbility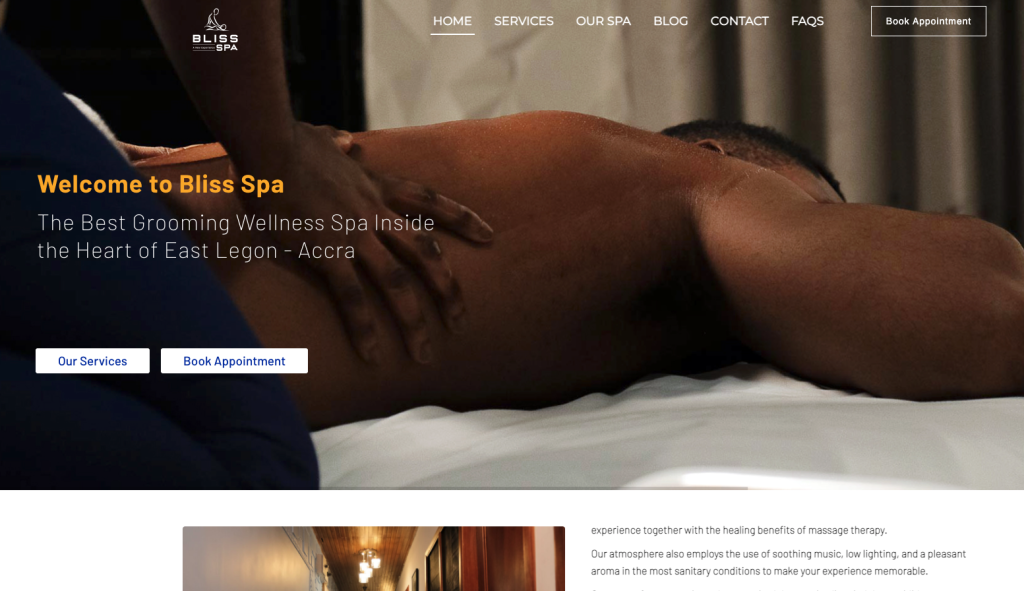 Bliss Spa
Twellium Limited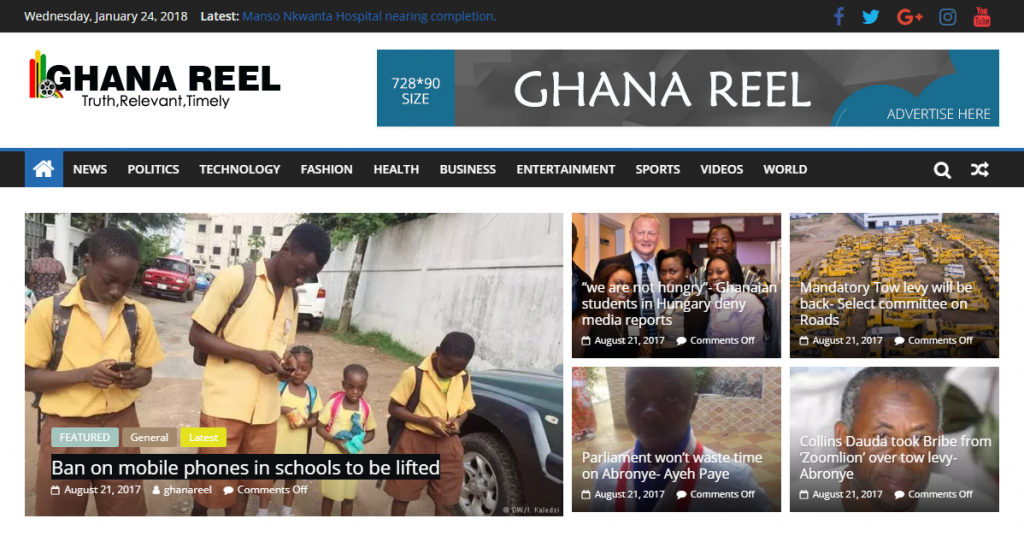 Ghana Reel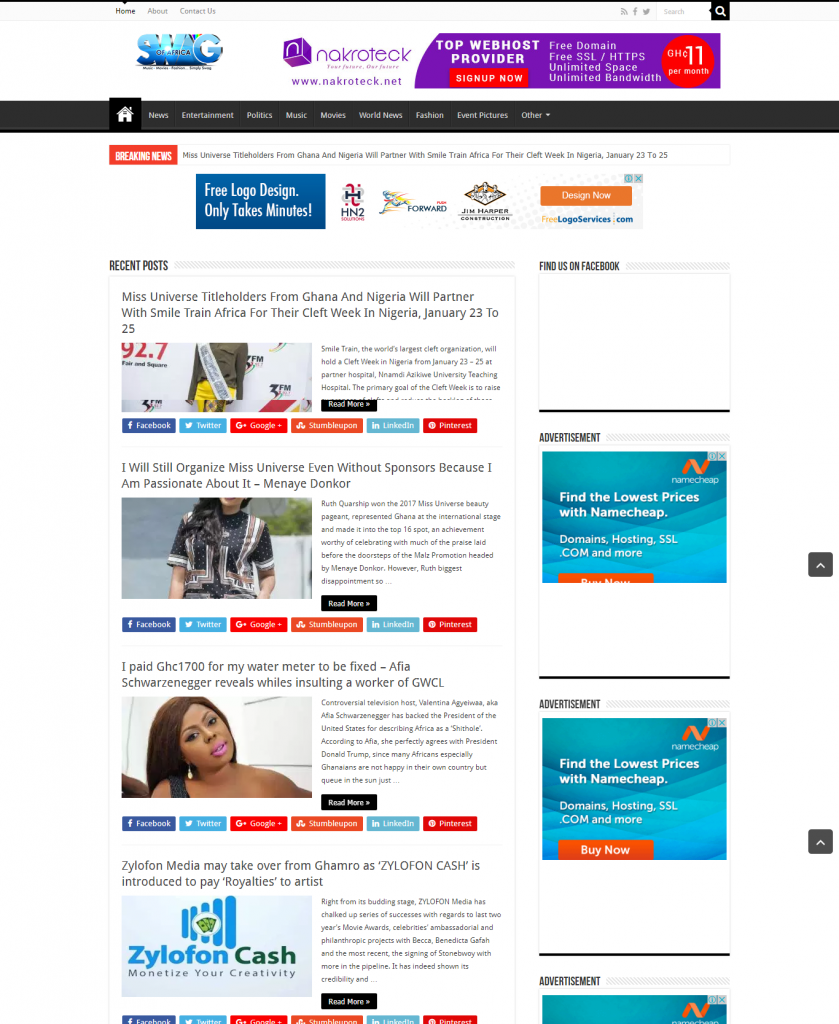 SwagOfAfrica
CGIA Institute

SEO, E-mail Marketing, Content Marketing & PPC

Client's Background

The Chartered Global Investment Analyst (CGIA) is the world's largest and recognized professional body setting global standards for ethical investment practices for the greater good of society through professional education.

Client's Online Pain

With the program's introduction to Ghana, CGIA struggled with both international and local online visibility before partnering with SEOGHANA.com Digital Agency, primarily due to their existence in a highly competitive market in a dense geographical area. The single keyword 'CGIA' has a ton of competition with Industrial firms like Carnegie General  Insurance Agency (CGIA) topping the SERPs (Search Engine Results pages)

SEOGHANA.com Strategy

In order to effectively help Chartered Global Investment Analyst rank above their direct competitors, our team researched the professional training industry in Ghana and audited the client's website to determine useful keywords on which to focus. Beyond outperforming competitors as a primary goal, we also sought to increase CGIA's online visibility and brand awareness; we did so through targeting folks in Ghana and Nigeria whose interests lie in professional education, Chartered program and Finance/Investment courses. Here is a breakdown of our three-pronged approach:

Our SEO team conducted the initial research, made keyword recommendations, monitored competition, updated keywords as needed (to follow industry trend changes) and built quality backlink applications.
The content team wrote original, non-duplicated blog articles on a monthly basis for the CGIA website, which exhibited their industry relevance to customers while enhancing search engine visibility. The content team also distributed monthly press releases, which further enhanced the company's brand, link building and keyword rankings.
Our team did a thorough research on competitors website to zap into the exact keywords they were using against our client. Auditing of the website and reporting on their keyword data, Google Analytics overview, Google Webmaster Tools queries, Adwords and mobile usability were done.

Outcomes

Through the efforts of our teams, www.cgiaglobal.com  has seen success throughout the life of their campaign. They continuously outperform their competitors, which is evident in their current organic rankings for the developed keywords. After just one year, CGIA had 73 keywords ranking on the first page of Google (GH), 28 of which are in the top 5 listings. CGIA Global awareness has also flourished. From February 2017 to now, their overall traffic has increased by over 43%. Furthermore, their local traffic results have increased during that timeframe by over 50% Accra and 21% in Kumasi. Their bounce rate (which is the term for a website visitor who clicks off of a webpage within three seconds) has decreased by over 5% in Accra and 17% in Kumasi. CGIA's visibility is also up. Over the course of two months, their organic rankings increased by over 56%, mobile visibility went up by nearly two-thirds, tablet sessions increased by over 44% and desktop sessions spiked by over one-third.

Organic traffic increased by 566%
73 keywords ranked on the first page of Google
28 keywords in top 5 on Google
Website traffic up by over 43%
Bounce rates down by over 17% in target area
Organic rankings up by over 56%
Mobile visibility up by over 63%

 

Moral of the Story

What's the moral of this story? Winning online is a matter of strategy and execution, not a question of geography and competition.

Ahenfie Estate

DEVELOPMENT,SEO & PPC

Client's Background

Ahenfie is a modern gated community estate, set up to provide quality and affordable homes for middle to upper-class families. The project is part of the Siwodan Housing Scheme, designed to offer housing solutions to individuals a and corporate institutions. Ahenfie has a team made up professionals who have practised in the industry for over a decade. Ahenfie has consulted and designed several projects for individuals and groups across different sectors in Ghana.

Client's Online Pain

This client's trouble was twofold: Ahenfie Estates's pay per click (PPC) campaign wasn't yielding the conversion rate that they would have liked it to, despite their generous budget. Furthermore, Ahenfie's product listing ads (PLAs) simply were not competitive enough to show up in search results. Needless to say, the amount of missed opportunities for online conversions was frustrating. Regardless of his PPC problems, though, Joseph Anim saw bigger and better things for Ahenfie Estate, especially in the project management and real estate markets. Ahenfie Estate was going to need help if it wanted to expand into new territory and simultaneously improve its online visibility — that's where we came in.

SEOGHANA.com's Strategy

The first thing we did was address the PLA issue by migrating the campaign to shopping. Then, we optimized Ahenfie Estates's bids by product group, because they needed to be competitive enough to show in all shopping results. After we got the PLAs squared away, our next task was to implement a very specific ad schedule that was based on the conversion data we were seeing. We ensured that the ads were only running during the times that yielded the highest number of conversions. Finally, we added a +10% bid adjustment for mobile devices to ensure the client's shopping ads showed up in as many mobile auctions as possible.

Outcomes

The month before Ahenfie Estate came onboard here at SEOGHANA.com Digital Agency, their cost per conversion was $22.64; the conversion rate was 1.22%; cost per click was $.28; and, click through rate was .71%. After 14 months with us, here is what Ahenfie Estate's PPC campaign looked like:

Cost per conversion dropped by to $14.21 (-37.26% change)

The number of conversions doubled. There were 34 the month before they came on board, and that number was 68 in their 14th month

Conversion rate increased to 1.89% (+54.7% change)

Average cost per click decreased $.27 (-294% change)

Click through rate increased to 1.46% (+105.37% change)

Moral of the Story

The lesson here? A great strategy wins every time. Ahenfie Estate increased their monthly spend by just 18.02%, and the results they saw were phenomenal. Today, Ahenfie Estate is a prominent name in the real estate market. Joseph Anims's company is now  selling buildings and home smoothly. With a little help from SEOGHANA, Ahenfie Estate became a big presence in the markets they aspired to.

Wolo Limited

SEO, PPC, DEVELOPMENT

Client's Background WOLO

is an African E-Learning Project. It is a platform created to offer education and skills training to Africans. WOLO is a Ga word that means "Book."Our story is part of an irresistible digital revolution that is taking place in Africa. Many countries have worked hard to improve access to basic education, but there is still significant work to be done. Today, in sub-Saharan Africa, there are 32.6 million children of primary school age and 25.7 adolescents who are not in school. The quality of education also remains an issue but we believe technology could be part of the solution.

Client's Online Pain

Wolo Limited owners are a niche audience, so formulating an effective advertising campaign for them presented a unique set of challenges. The biggest of them was getting their ads in front of all SHS students. Prior to our intervention, identifying such a specific group of people seemed like an insurmountable feat. Obstacles like filtering out all irrelevant traffic and ensuring that their services were not turning up in front of people looking for standard investment services presented themselves immediately.

SEOGHANA's Strategy

Wolo wanted to do three things:

See a sizable increase in click-through-rate (CTR)
Lower cost-per-click (CPC)
Lower cost-per-converted click

However, getting the most bang for your buck with a PPC campaign in the investment industry would require a significant financial investment. Needless to say, Wolo Ltd. obliged. The first thing we did was come up with a hefty list of negative keywords (such as learn at your own pace, SHS tuition on the go, and anything else that would attract any of the aforementioned undesired traffic) to eliminate unqualified users. Armed with this list and a target audience of people in the whole of Ghana and ECOWAS, we created three separate campaigns: Online SHS tuition, collectibles events in Ghana, and remarketing. Then, we separated each campaign into several granular ad groups:

"Online SHS tuition" contained the following ad groups:

online education SHS
SHS education
eLearning
Senior High School Syllabus
WASSCE Pasco online
Fre Online SHS
Online SHS education
WASSCE preparation online
Scholarship for SHS students
WOLO online education

"Collectibles Events" contained the following ad groups:

 Online Skills training
Summits Ghana
Exhibition and trade show
Leadership forums
Africa centric trade missions
Entrepreneurship
Sales & Marketing
Employability Skills
Professional Training

Then, we identified the best-performing terms and paused out the lowest-performing ones. We also frequently sifted through our data to ferret out any other irrelevant search queries to add as negative keywords; we did the same thing to identify any queries we might have missed to add as keywords.

Outcomes

CTR increased by more than 60%

Cost per converted click dropped by 30%

Average CPC dropped by 23%

Not only were we able to get more visitors to Westlion's site, but we were able to do so while stretching each dollar and maximizing every resource we had available.

Moral of the Story

The moral of the story: A great strategy and an adequate budget can pay huge dividends for a business, regardless of whether or not it's niche or mainstream.

Klaspad Ghana

Social Media Management

Client's Background

Klaspad Ghana powered by assured Investors, a dynamic education consulting company focused on the delivery of learning and education through the combined power of technology, a seasoned faculty, robust curriculum for all career levels and a strong partner network to ensure everyone has access to world class education

Client's Online Pain

This market was enturely a new one, Assured Investors quest was to finding the right audience, and with low mobile traffic, the dealership was having further troubles finding an audience at all. With high competition in the educaction provision, a tactical approach needed to be serve through digital marketing funnels. Online visitors would turn into prospective subscribers, but without the right online visitors, conversions remained stagnant and warned of a possible backslide. Poor quality backlinks marred the website's online viability and would continue to harm their visibility unless remedied. Setting reasonable expectations, they wanted to retake their market share by:

Focusing on increasing mobile traffic by 50%
Increasing social media interaction, growth and engagement by 20%
Decreasing the bounce rate by 25%
Increasing the average session duration by 30 seconds.

SEOGHANA's Strategy

Increasing page growth on social media was the centre to this campaign.To do this we employed various form of copywriting and creative approach towards our deliverability. Targeting key phrases that brought high traffic, the SEO team worked in tandem with content generation to grow rankings and optimize on-page content for user experience and SEO. It was first page or bust. While the on-page content was refined and implemented, they were supplemented with daily blogs and press releases, which continue to be released.

Outcomes

Organic traffic increased 36% in less than one year
Organic new users increased 34% in less than one year
Bounce rate decreased 53% falling to a 21% bounce
Average session duration increased 27% to a full four minutes
Mobile traffic increased 86%

Moral Of The Story

By using tried-and-true SEO techniques with a new strategy that aggressively targeted a wider audience, SEOGHANA.com was able to meet or exceed the goals of Osompa radio online campaign.

ProfileAbility

SEO & DEVELOPMENT

Client's Background

ProfileAbility

 is a music profile marketing network that started in West Africa with inspiration drawn from talented African musicians with abilities. A lot of young people living in Africa are passionately talented with music but falls short when it comes to talent globalization, social media circulation, search engine recognition and a stable artiste webpage.

Client's Online Pain

ProfileAbility troubles were twofold: Since they are primary for profiling every African Musician, they needed both Africana and international reach. Additionally, the need for a strong online presence was even more pressing due to the exploding popularity of their website. In the first half of 2016, ProfileAbility asked that we:

Double their traffic
Increase their online exposure by gaining 25 million impressions
Increase their mobile traffic by 50%
Attract at least 500 visitors to their "Submit your profile" page

The final challenge? They wanted these objectives met during the height of AFRIMA award season.

SEOGHANA's Strategy

First, we targeted search terms such ''African musicians, and the various musicians profiles and biography as precisely as possible, eventually identifyingfeasibility search terms that targeted the various keywords that would make the website stand out. We built mobile-friendly pages for the website loading and page cache–and incorporated search terms into the optimized content hosted by those pages. We also published regular blogs on their blog pages to build strong links back to AFRIMA site. At the end of the day our team were able to  put ProfileAbility next to wikipedia on any keyword search term that bring an African musician with an additional phrase like '' Profile'', ''Biography'' and "African Musicians website"

Outcomes

Our client's visibility skyrocketed–and so did their traffic. They got more profile submission and online interactions from people searching for profiles of African Musicians. From Facebook to Twitter, to search engines results, the PA platform is making an impression in multiple online arenas. Let's look at the numbers:

Traffic increased by 72%
1 million impressions made
218% increase in mobile traffic
2,457 visitors to summit their profiles,

Moral of the Story

Our work on this campaign put to bed any suspicion that there's such a thing as a bad time in digital marketing. The timing of this campaign (peak award season) was challenging, but we leveraged that challenge and turned it into a huge opportunity to help community members in need of our client's support.

Bliss Spa

Web Development,SEO,PPC and Creative strategy

Client's Background

Bliss Spa Accra was established in 2019 to create a perfect setting for the most refreshing spa experience in Ghana. Both men and women are offered a luxurious and relaxing experience together with the healing benefits of massage therapy.

''Our atmosphere also employs the use of soothing music, low lighting, and a pleasant aroma in the most sanitary conditions to make your at Bliss Spa Accra experience memorable.

Client's Online Pain

One of the many things that plagued Bliss Spa's previous efforts to construct a solid online presence was that their website was not properly developed and optimized. Furthermore, their website lacked a responsive design, and thus required an overhaul to ensure it offered the superior user experience that Google requires to allow sites to perform well. To add to the issue, the client had virtually no way of letting potential customers know they were open to performing international airlines, visa processing and ticketing. In under a year with SEOGHANA.com, they hoped to not only enhance the look of their site but also:

Increase traffic seen from their home state, but also Pennsylvania and DC by 50%, respectively.
Increase their Organic, Desktop, Mobile, and Tablet traffic by at least 15%.
Make it immediately known to all customers that they offer Storm Damage services and see conversions from that effort as soon as possible.

SEOGHANA's Strategy

To help Bliss Spa, our team of PPC specialists immediately stepped in and created a specific "Storm Damage" PPC campaign. Our PPC specialists determined that the conversion rate for this campaign would be much higher than others they would create, and would also have a lower cost per conversion. This campaign was activated only during inclement travel season and then paused a few days after the weather passed. While our PPC specialists worked quickly to establish Bliss Spas's online presence, our website design/development, SEO, and content teams worked together to shape the company's website into something worth occupying. Ultimately, our website design/development team provided the framework and responsive design needed for our SEO team to reinforce Bluss Spa's objectives. Our content team also strengthened our SEO team's efforts by writing optimized content with search terms that spoke to Bliss Spas's audience. Once all of this was implemented, we constructed monthly blogs and press releases to help ensure the foundation we built was kept strong.

Outcomes

Since onboarding with us, Hallitravels.com traffic has soared, and the company is getting three times as many leads through our SEO initiatives as they originally hoped for. In under a year the company's:

Desktop Traffic has increased by 34%
Mobile Traffic has increased by 206%
Tablet Traffic has increased by 64%
Organic Traffic has increased by 16%
Tema traffic has increased by 118%
Kumasi Traffic has increased by 56%
Accra Traffic has increased by 322%

Their "Storm Damage" PPC campaign has also yielded wondrous results:

Their Click-through rate is a sensational 2.57%
Their Conversion rate is a magnificent 6.14%

Moral of the Story

The moral of this story? Responsiveness is key. If you hit the ground running and take the time needed to build your online marketing campaign right, traffic, and those coveted leads, will come.

Twellium Limited

Development , SEO, PPC & Social Media campaign

Client's Background

Twellium Industrial Company was incorporated in Ghana in September 2013, to kick start the production of 4 key franchised products. These include Rush Energy drink, Original American Cola, Planet Range and Bubble Up lemon lime

Client's Online Pain

This particular client's online pain wasn't your typical "pain," per se. In reality, Twellium Ltd. was looking to expand their already successful business to a new, national audience. The Client focus was committed to promoting their bottled water, Verna as a way of eating out the competition in the search engine results page and show true to their advocacy as being the number one bottled water in Ghana.

SEOGHANA.com's Strategy

Twellium (GH) Ltd. was committed to seeing their ambitious national expansion vision come to fruition, so they allocated a sizable budget to do so. Here's how their budget was allocated:

20%: SEO
35%: Adword PPC
25%: Facebook Ads
20%: Reporting Tools, Monitoring & Analysis

With the budget in place, we worked with the folks at Twellium to table 3 explicit goals, which were:

Improve lead generation and conversion rates to increase revenue and sales
Increase national visibility
Improve national brand awareness

We started by auditing this client's website to determine which keywords it was ranking for. After comparing those keywords against those of their competitors, we worked with Twellium to identify the best keywords to help them reach their Ads goals; then, we used them to build relevant, engaging content that would attract new shoppers and keep previous shoppers returning. The idea was to increase Twellium' online visibility and, in turn, cultivate their brand awareness in order to yield a harvest of leads and new avenues for generating revenue.

Outcomes

When looking at the increase in revenue between Q1 in their first year and Q1 in their second year with  SEOGHANA.com Digital Agency, the 30.64% increase speaks volumes about the effectiveness of this particular campaign. Furthermore, looking at mobile Google organic results alone showed an increase of more than 88% in traffic and 176% in paid search results. In all, Kempt Operations's revenue increased by more than 200% and their conversion rate increased by 47%.

91% Increase in All Traffic
71% Increase in Organic Rankings
47% Conversion Rate Increase
200% Revenue Increase

Moral of the Story

The lesson here is simple: With the right planning, appropriate funding, and a great team of digital marketers, no business' online goals can be too lofty.

Ghana Reel

Web Development & SEO

Client's Background Ghana Reel is your reel to what is happening in Ghana and the world. The Website has been providing news publications to the various media house and bloggers across Africa.


Client's Online Pain

Although it wasn't immediately apparent to the client, their website (specifically its layout) was negatively impacting both their online conversion rate and the number of subscribers they garnered on a monthly basis. To compound their troubles, their presence in the tablet and mobile markets was virtually non-existent. In the first months of 2017, Ghana Reel needed to see a significant uptick in several facets of their online visibility. To be specific, their goals can be summed up as follows:

Increase call volume by at least 10% vs. 2016
Increase leads by 25%
Increase conversions by 15%
Tap into mobile and tablet markets

SEOGHANA's Strategy

The first thing our expert digital marketers did was design a new website for Ghana Reel, which improved the user experience. After all, website visitors aren't likely to complete traffic-generating behaviors if their experiences online aren't as seamless and, in some cases, enjoyable as possible. Furthermore, this client's former website didn't radiate the kind of credibility and professionalism it needed to. We kept that in mind when we created their new site, and it ended up paying off tremendously. Once concerns about the user experience were addressed, our SEO team got to work researching which search terms to target with content in order to deliver the highest-volume, highest-quality website traffic for the latest news in Ghana. We didn't stop the buck with emergency procedures, though, because this client needed to generate business for their everyday procedures as well. Given that fact, we targeted search terms and phrases geared specifically toward satisfying the search queries of users in need of the aforementioned everyday trending news world. Once all of this work was completed, we generated dozens of pages of optimized content and supplemented our SEO efforts with monthly blogs and press releases.

Outcomes

Leads increased by 37%
Conversion rate increased by 29%

Successfully tapped into mobile market, as mobile conversion rate increased by 25% & mobile leads increased by 37%. Furthermore, tablet conversions increased by a staggering 342% and leads generated from tablet users increased by 434%.

Moral of the Story

The moral of this story? Never underestimate the impact of user experience.

SwagOfAfrica

Search Engine Optimisation

Client's Background SWAG of  Africa is an african based Entertainment house set to blow your mind with interesting news and updates about all the entertaining things you can Imagine.


Client's Online Pain

This client came to SEOGHANA.com some years ago and was our first client. They were not initially performing well online as their digital presence was being overshadowed by generic content and phrases. The owners wanted to build their online presence so as to become on top of their niche. SwagOfAfrica needed to increase their brand presence in their local service area to do so. In order to accomplish this, their goals were:

Increase organic traffic by 35%
Grow organic new users by 40%

SEOGHANA.com's Strategy

Our digital marketing experts first addressed the client's online pain by revamping her website. This digital overhaul attracted new users and differentiated the platform from the competition. The updated website muted negative impressions, increased their professional appearance and helped them stay current with trends. In addition to the website, we established a very successful targeted, defined radius to foster organic traffic. We also used targeted search terms and phrases that pleased search engines. These terms were then used for the revitalized website's optimized content and in daily press releases and blog posts.

Outcomes

The new digital strategy that SEOGHANA implemented paid dividends for SwagOfAfrica.news

Organic traffic increased by 67.54%
Organic new users grew by 73.75%

Moral of the Story

A calculated digital strategy can do wonders for boosting one's visibility online.
Our Clients