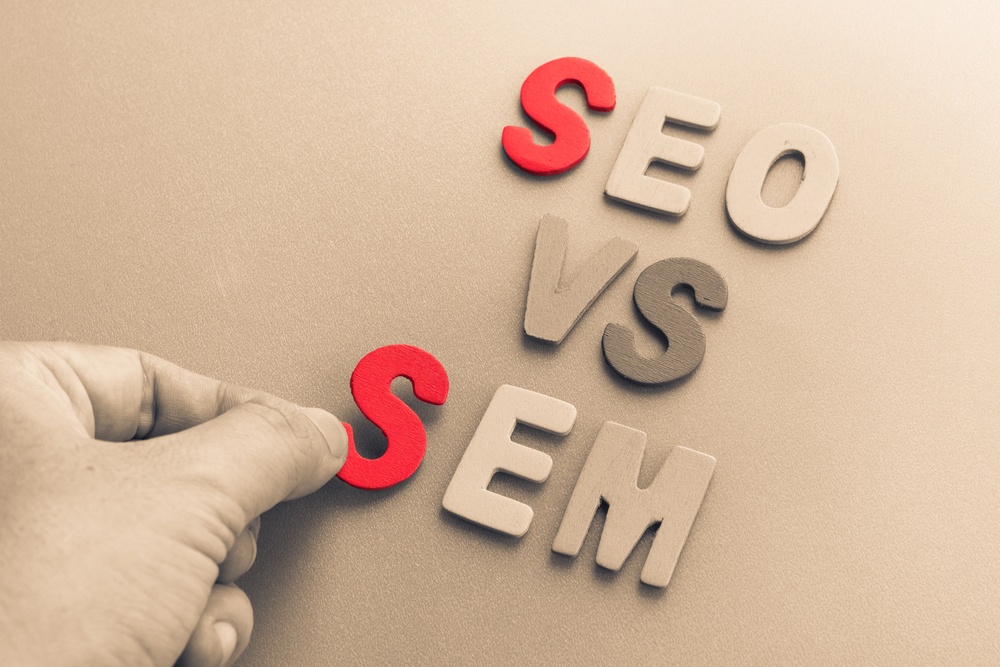 Search Engine Optimization (SEO) is a digital marketing strategy that is organic and uses tactics to place the brand among the top results of a search engine. For SEO, brands don't pay and it is done using the below techniques:
On-page SEO – targets a specified keyword of the pages on a website and appeal to the search engines. Strategies include content creation and keyword optimization.
Technical SEO – uses the non-content elements of your site and improves the backend of your brand. Strategies include data, security, and crawlability.
Off-page SEO – links to other high-quality sites to build your brand's reputation. The main strategy here is link building which in turn builds the site's credibility.
What is SEM?
Search Engine Marketing (SEM) is often referred to as paid marketing and it involves strategies to optimize the ad and pay to place your brand's ad. This is also commonly referred to as PPC (Pay per click) marketing. The SEM process goes like –
Perform a keyword research
Create campaigns
Place ads at the top after a search
Pay as per the number of clicks
Are SEO and SEM similar? Both of these are search marketing strategies to offer more visibility to your brand. Here are a few similarities:
Place your brand at a prominent position
Drive traffic to your site resulting in more conversions
Analyse the most popular keywords to target them
Continuous testing and optimization is a must
Then why choose between SEO or SEM?
Irrespective of the similarities, there are a number of differences which will force your brand to choose what suits you best:
SEM is a paid tactic and appears as an "Ad". SEO results appear as a search option
SEM results include ad extensions, while SEO results appear as featured snippets
SEO is absolutely free, SEM is paid of course
SEM is target audience-specific, SEO is keyword specific (indirectly the target audience's thought process)
SEM results are immediate, SEO takes time to grow visibility organically – slow and steady
So how do I choose?
Once you have understood the difference between the two search marketing strategies, it is important for you to analyze which is better for your brand.
SEM is better for brand's with higher competition
SEO is better for those who know the target audience and want long term benefits
SEM is better for short-term, higher budget strategies, while SEO is preferable for higher valued industries that would like to establish their brand on the internet well
For newbies, SEM will help put you on the map immediately at least for a short while, while SEO helps establishes your brand
Plan and choose your strategies or as you dive deeper, you may understand that a combination of both works for you! It is a must to have SEO strategy for any small to huge organizations in the world of Google (or any other search engine like Bing) – its race and the brands that occupy the first page always are seen with a stronger value. SEM is required for the same brands, say when they introduce a new product or when they need to generate leads sooner for some reason or other, there is no way to depend on inbound leads that are organic and may or may not come at the time you wish for it.