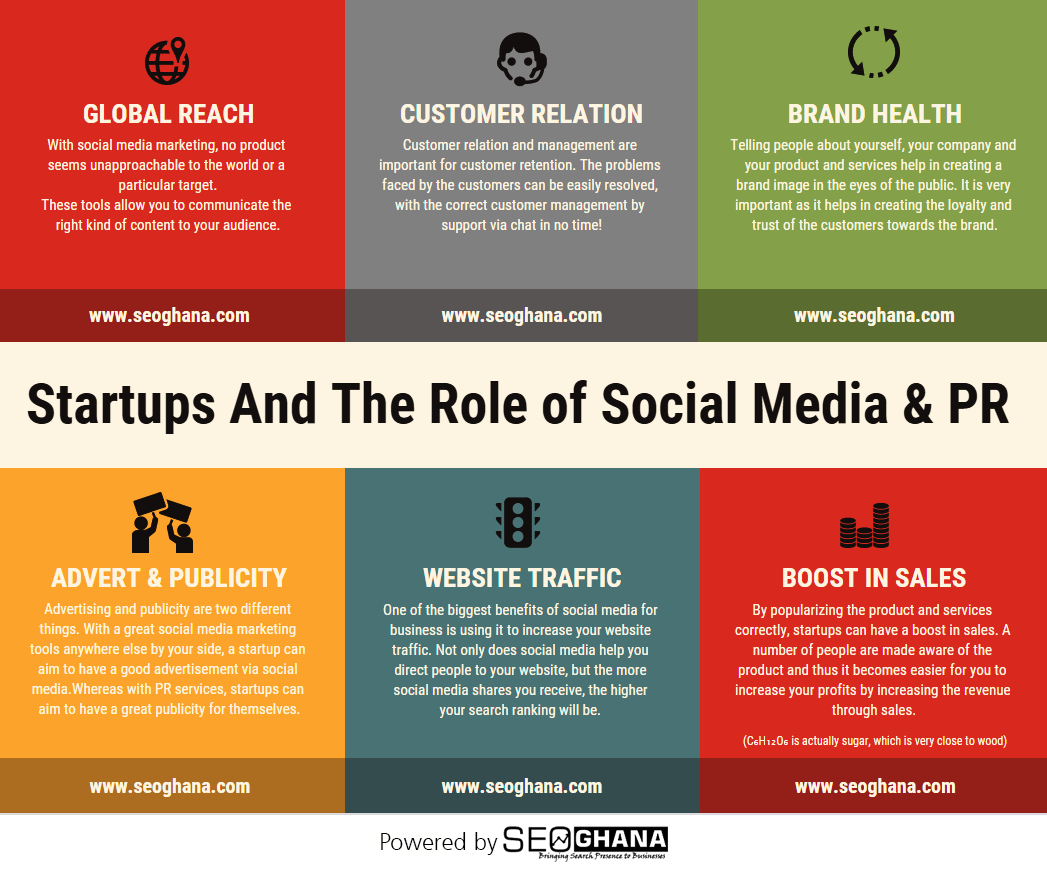 Think that you are a startup, with a one of a kind, life-changing and world-changing idea, but you are not able to spread the word correctly about yourself. Just imagine what would happen? Your start-up would not work! Now think, considering the same product through the channel of good PR agencies &social media marketing agency or perhaps you equip yourself in that, you will be able to reach new heights. Even a normal product has a higher growth potential if they choose good PR firms that provide exceptional PR expertise or services.
In today's digital era, getting to know the positive or negative things about a product or service just takes seconds because of the presence of internet. Therefore, having a good social media marketing for the business is very important. When such things are done right, startups can gain the benefit of the following factors –
1. Global Reach
With social media marketing, no product seems unapproachable to the world or a particular target. Social media giants like Facebook, Instagram, LinkedIn, Twitter, Pinterest, etc.  have proven to be helpful in the past for many startups. These tools allow you to communicate the right kind of content to your audience. People are always attracted to something aw and something good. Any information you leave can easily reach people living in the United States of America, even if your startup is in Ghana
2. Customer Relation
Customer relation and management are important for customer retention. The problems faced by the customers can be easily resolved, with the correct customer management by the startups. Generally, startups give special importance to the fact that no customer leaves dissatisfied as the customer is the king. The word of mouth by customer matter a lot in the growth and well being of any startup. Social media promise effective live chat and real-time messaging that you can use to address a customers issue in no time!
3. Brand Health
Telling people about yourself, your company and your product and services help in creating a brand image in the eyes of the public. It is very important as it helps in creating the loyalty and trust of the customers towards the brand. Such activities help in connecting the individuals with the brand and help in the success of the startup.
4. Advertisement and publicity
Advertising and publicity are two different things. With a great social media marketing agency such as Seoghana or anywhere else by their side, a startup can aim to have a good advertisement for them. Whereas with good PR agencies providing outstanding PR services, startups can aim to have a great publicity for themselves.
Avoiding or ignoring factors like social media marketing and public relations does not mean that a startup will not grow. It just means that it will decrease the speed at which it can grow. Therefore, if you are a startup, looking for a speedy growth and fame in the industry where you are participating, you must make sure that you hire great PR agencies which can provide you with great services.
5. Website traffic
One of the biggest benefits of social media for business is using it to increase your website traffic. Not only does social media help you direct people to your website, but the more social media shares you receive, the higher your search ranking will be.
6. Boost in sales
By popularizing the product and services correctly, startups can have a boost in sales. A number of people are made aware of the product and thus it becomes easier for you to increase your profits by increasing the revenue through sales.